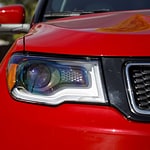 Powerful attributes and sporty accents come together to make the Jeep Compass a well-designed SUV. Continuing to include a signature Jeep grille on its front end, the Compass offers a contemporary look and modern accents elsewhere on its exterior. Natural curves and sleek lines create a sporty appeal for this model.
At the forefront of this SUV's design sits a signature Jeep emblem on the hood that gains attention. On either sides of its distinctive front grille sit high-intensity discharge headlamps that are both attractive and functional. Moving to the roof of the Jeep Compass, a dual-pane panoramic sunroof generates an open feel within the cabin.
At the back of the Jeep Compass, matching LED taillights make it easy for other drivers to see you in the daytime or at night. A power liftgate is also present at the rear of this SUV that is compatible with a key fob from up to 60 feet away.